Looking for a salad that steals the spotlight? Check out my Bread Salad – a delightful blend of toasty bread, zesty dressing, ripe tomatoes, and crunchy onion. Perfect for holidays or any day when you crave a taste sensation.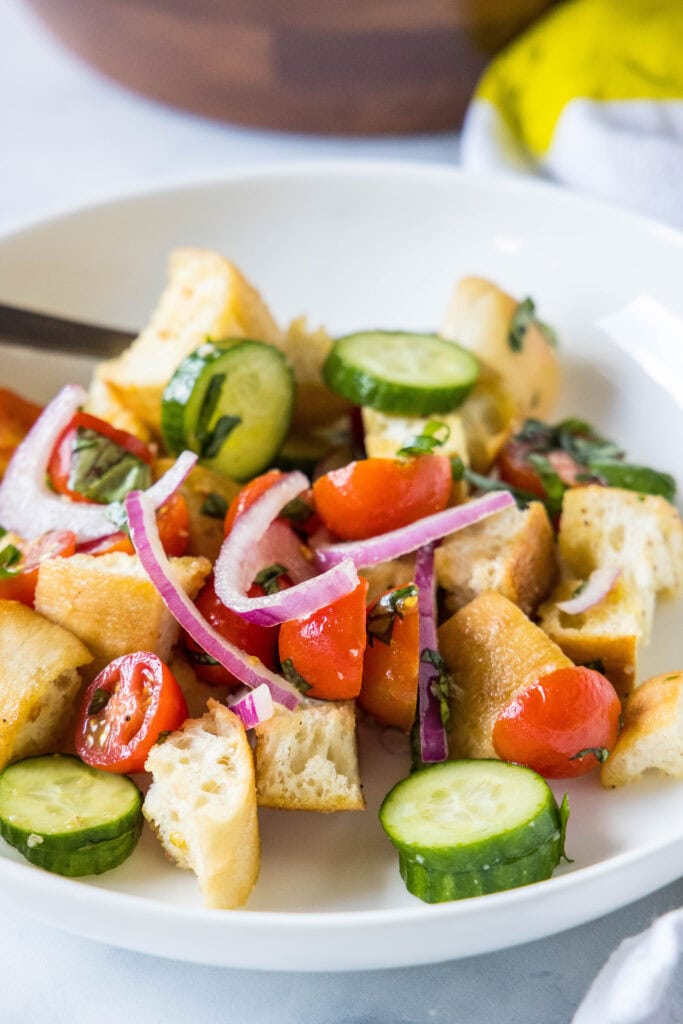 Get ready to fall in love with a salad that's anything but ordinary! Imagine big, toasty chunks of bread coated in a tangy balsamic vinaigrette dressing. They mingle with the sweetness of ripe tomatoes and the satisfying crunch of red onion. You might know this dish as Panzanella, but we affectionately call it "Bread Salad" in my family. For us, it's a holiday staple that's as versatile as it is delicious. 
Even the pickiest eaters can't resist – customize it with your favorite ingredients. You can even swap the dressing for Greek or Lemon Vinaigrette. Whether it's a special occasion or a regular weekday, this salad's crusty bread and irresistible flavor will keep you craving more.
Why You'll Love This Bread Salad
Incredible Flavor – Prepare to tantalize your taste buds! It's an irresistible combination. Chunks of crispy bread, the zing of balsamic vinaigrette, and the burst of tomato sweetness will have your senses dancing with delight.
Effortless Prep – Impress your guests without the hassle. This recipe may look and taste gourmet, but it's effortless. It's the ideal choice for when you want to make a big impression with minimal effort.
Holiday Staple – Experience the joy of a holiday classic that will become a family tradition. The rich flavors of this salad create an unforgettable dish perfect for festive gatherings.
Year-Round Dish – Don't limit this masterpiece to holidays alone! Whether it's a special occasion or an ordinary day, our Bread Salad is a quick, flavorful, and satisfying dish you'll crave all year round. It's comfort food at its finest.
Customize It – Our Bread Salad is your culinary canvas! Personalize it to your heart's content by adding or swapping ingredients. It's perfect for picky eaters or accommodating dietary preferences. It's your salad, your way.
What You'll Need
Be sure to scroll down to the recipe card to get the measurements and full instructions!
For the Dressing:
Ciabatta Bread – Ciabatta bread's rustic, chewy texture and large, airy holes make it an ideal choice for bread salad. It absorbs dressing well while maintaining a satisfying crunch. Alternatively, you could use any other crusty bread like sourdough or a baguette.
Olive Oil
Salt & Pepper
Tomatoes – I recommend cutting cherry or grape tomatoes in half for the perfect bite-sized morsels. Plus, they don't come with all the gel and seeds of most larger tomatoes.  
Cucumber – If possible, use English cucumbers. They have thinner skin, fewer seeds, and a milder flavor. So they're more refreshing and less bitter than their regular counterparts. 
Red Onion – Red onion is more mild when compared to other yellow and white varieties. It adds a pleasant tang without overwhelming the dish, and its vibrant color livens up the salad. Shallots would work well, too.
Basil – Fresh basil is a must in this dish! Don't skip it. 
For the Dressing:
Olive Oil
Balsamic Vinegar – If you can get your hands on white balsamic vinegar, use it! It's milder and more sweet than the standard dark-colored balsamic. Plus, the light-colored dressing looks more appealing when soaked into the bread. 
Garlic – Fresh cloves will give you the best, most punchy flavor. Don't bother mincing. Grate them with a microplane for quick and effective results.
Salt & Pepper
How To Make Bread Salad
Preheat the Oven. Begin by preheating your oven to 400º F.
Prepare Ciabatta Cubes. Cut the Ciabatta bread into 1-inch cubes and spread them out on a large baking sheet. Drizzle olive oil over the bread, sprinkle with salt and pepper, then toss to ensure the bread is evenly coated.
Bake to Perfection. Bake the bread for approximately 20 minutes, stirring halfway through. The goal is to achieve a crisp, golden exterior while maintaining a soft interior. Once done, remove the toasted bread from the oven and allow it to cool.
Create the Dressing. In a small, lidded jar, combine the dressing ingredients. Shake vigorously until the vinegar and oil are well mixed. Alternatively, use an immersion blender or whisk them together in a small bowl until emulsified.
Assemble the Salad. Toss the toasted bread cubes, ripe tomatoes, cucumber, red onion, and fresh basil in a large bowl. Add about half of the prepared dressing, ensuring everything is well coated. You can adjust the dressing quantity to suit your taste.
Serve. Don't wait to serve this one, or the bread will get soggy! Dish it out and dig in immediately.
Recipe Tips & Variations
Dressing Dosage: To prevent sogginess, it's best to dress individual portions before serving. This maintains the delightful crunch of the bread.
Customize Your Crunch: Experiment with different types of bread. From traditional Ciabatta to whole-grain or artisanal loaves, tailor the texture and taste to your liking.
Flavorful Additions: Elevate your Bread Salad with additions like crumbled feta cheese, Kalamata olives, or roasted red peppers for extra depth of flavor.
Herb Power: Experiment with fresh herbs like parsley, mint, or cilantro to infuse your salad with vibrant, herbaceous notes.
Can I make Bread Salad ahead of time?
Yes, you can prepare the components in advance. Keep the bread, veggies, and dressing separate. Then, assemble them before serving to maintain freshness and texture.
Can I make this gluten-free?
Absolutely! You can use gluten-free bread to make this salad gluten-free while retaining all the delicious flavors and textures.
Can I use a different vinegar for the dressing?
Of course! You can experiment with various vinegars like red wine vinegar, apple cider vinegar, or rice vinegar.
Serving Suggestions
Add grilled chicken, shrimp, or chickpeas to transform this salad into a protein-packed meal. Or, pair it with any of these satisfying sides for a gourmet spread that's quick and easy enough for a busy weeknight. 
Grilled Chicken with Peach BBQ Sauce – The tangy balsamic dressing can hold its own against this sweet and savory chicken. Together, they create a meal that will make your tastebuds flair.
Instant Pot Whole Chicken – Bread salad along side a hand-off roast chicken all done in the Instant Pot, couldn't be an easier dinner that you could even entertain with.
Air Fryer Steak Bites – Juicy, tender, and ready in only 15 minutes. We couldn't ask for a better Bread Salad pairing.
Prep Time
15 minutes
Cook Time
20 minutes
Total Time
35 minutes
Ingredients
Salad
1 loaf Ciabatta Bread
2 Tablespoons olive oil
Salt & Pepper
2 pounds tomatoes (cherry or grape tomatoes), halved
1 English cucumber, thinly sliced
1/2 red onion, thinly sliced
1/2 cup chopped fresh basil
Dressing
1/4 cup olive oil
2 Tablespoons white balsamic vinegar
2 cloves garlic, grated
Salt & Pepper
Instructions
Preheat oven to 400º F.
Cut the Ciabatta bread into 1 inch cubes. Arrange on a large baking sheet. Drizzle olive oil over the top of the bread, and sprinkle with salt and pepper. Toss to coat.
Bake bread for about 20 minutes, stirring half way. You want the bread to be toasted and crispy on the outside, but still soft on the inside. Remove from the oven and let cool.
To prepare the dressing add the ingredients to a small jar with a tight fitting lid and shake until well combined, or whisk in a small bowl until the vinegar and oil come together.
In a large bowl toss together toasted bread, tomatoes, cucumber, red onion, and basil. Add dressing and toss until well coated. Start with about half of the dressing and add more to taste.
Serve immediately.
Notes
Only dress as much salad as you think you will eat. It does not keep once it has been tossed with the dressing.
Nutrition Information
Yield
8
Serving Size
1
Amount Per Serving
Calories 273Total Fat 12gSaturated Fat 2gTrans Fat 0gUnsaturated Fat 10gCholesterol 0mgSodium 360mgCarbohydrates 35gFiber 3gSugar 8gProtein 6g
Nutrition Disclaimer: All information presented on this site is intended for informational purposes only. I am not a certified nutritionist and any nutritional information shared on dinnersdishesanddesserts.com should only be used as a general guideline.
I created a fun group on Facebook, and I would love for you to join us! It's a place where you can share YOUR favorite recipes, ask questions, and see what's new at Dinners, Dishes and Desserts (so that you never miss a new recipe)!
Be sure to follow me on Instagram and tag #dinnersdishes so I can see all the wonderful DINNERS, DISHES, AND DESSERTS recipes YOU make!
Be sure to follow me on my social media, so you never miss a post!
Facebook | Twitter | Pinterest | Instagram 
Did you know there is a Dinners, Dishes, and Desserts SHOP? Lots of different E-Books for sale. Or you can buy me a coffee to say thanks!
OTHER RECIPES YOU MIGHT LIKE: