Quick, easy, and loaded with gooey cheese, this healthy mac and cheese is a stovetop comfort meal that everyone will love. With creamy Greek yogurt, two kinds of cheese, and spicy seasonings, this healthy take on a classic dish is a must-make lunch.
Mac and cheese is one of the best foods ever made. It's rich, creamy, and comforting, and kids and adults both love it. It's an iconic dish for a reason. Unfortunately, mac and cheese is usually pretty unhealthy. Whether you're making your own mac and cheese or using the kind from a box, most recipes are pretty bad for you. So I decided to make a healthy mac and cheese that I could eat all the time.
This healthier macaroni and cheese recipe is still packed full of gooey, melted cheese and tender elbow pasta. It's got all of the classic mac and cheese flavors that you know and love, and takes less than half an hour to make. It's just a lot healthier than the mac and cheese that you've had in the past. 
Why You'll Love This Healthy Mac and Cheese
Trust me when I say that this is a recipe you'll make over and over again! Here's why you'll love it so much.
So fast and easy. This is such an easy and quick recipe. It only uses 9 simple ingredients, and it takes just 25 minutes to make. You can throw together a bowl of healthy stovetop mac and cheese anytime you're craving it. 
Healthier. Everything you love about mac and cheese is in this recipe, but it's so much healthier. If you've been looking for mac and cheese that makes your body feel as good as your tastebuds, then this is the recipe for you. 
Easy to adapt. One thing that I love about this recipe is that you can adjust it based on what you're craving and what foods you have around the house. You can add so many different ingredients to this healthy mac and cheese recipe and it will always be delicious.
Kid-friendly. It's not exactly a secret that kids love mac and cheese. And this recipe is no exception! Even though it's a healthier recipe, it's just as big of a hit with kids.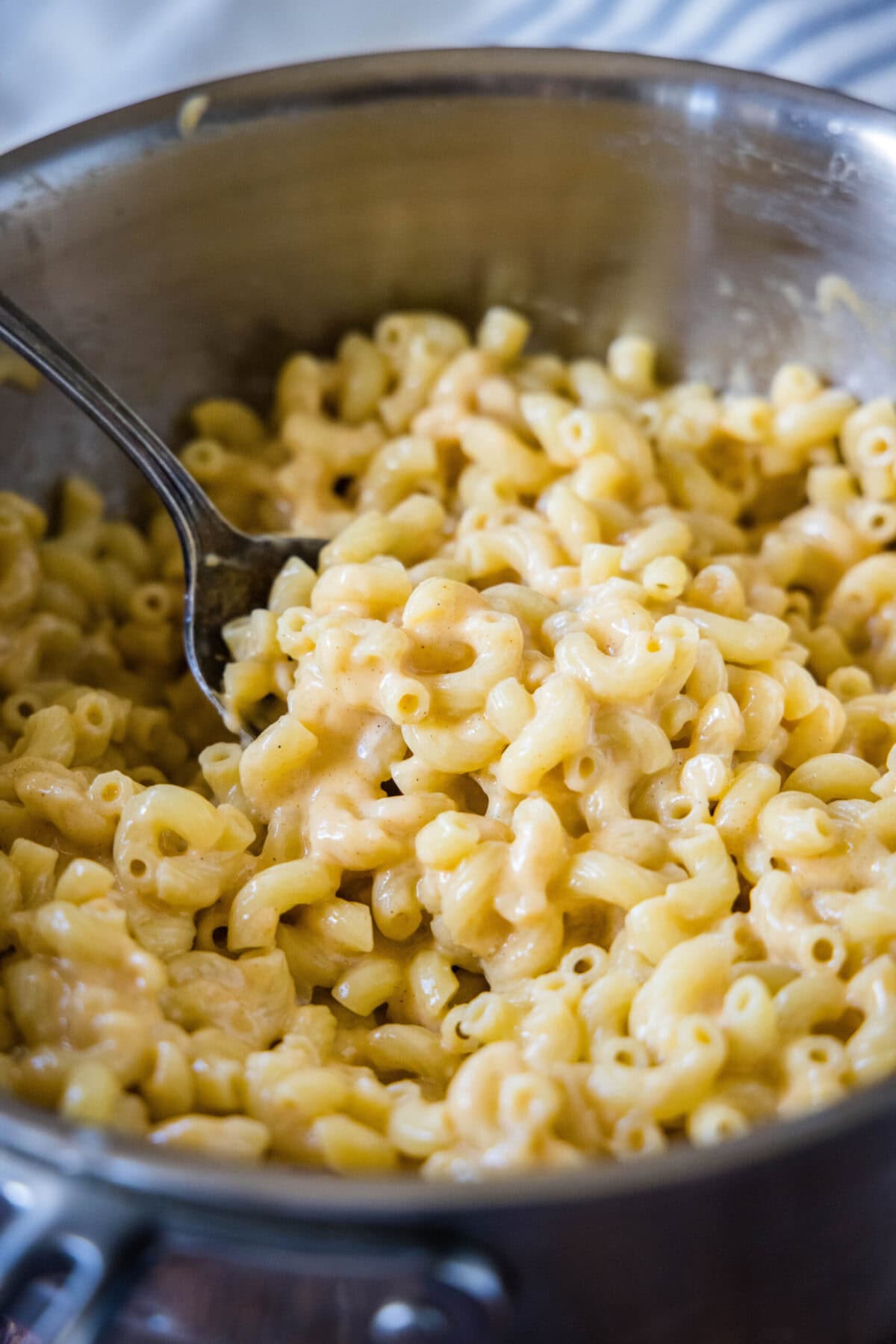 What Makes This Stovetop Mac and Cheese Healthy? 
This recipe is so much healthier than boxed mac and cheese or the average homemade mac and cheese recipe. Here's why it's so much better for you.
Greek yogurt. Healthy mac and cheese gets a lot of its creamy flavor and texture from Greek yogurt. Greek yogurt is a super healthy ingredient that's loaded with protein, probiotics, vitamins, and minerals. 
No cream or butter. Most mac and cheese recipes use a lot of butter, as well as a good amount of whole milk or heavy cream. This recipe doesn't use either of those things. The only dairy in this healthier stovetop mac and cheese comes from the Greek yogurt and the cheese.
Zero processed cheese. Mac and cheese is usually loaded with heavily processed cheeses. This recipe only uses real cheese. Instead of American cheese or Velveeta, this dish uses gruyere and sharp cheddar. The flavor is so much better, and it's healthier. 
Healthy pasta options. You can use normal elbow macaroni for this mac and cheese, but you can also increase the healthiness by using high-protein pasta, chickpea pasta, whole wheat pasta, or any other healthy pasta options. They'll all taste delicious in this recipe!!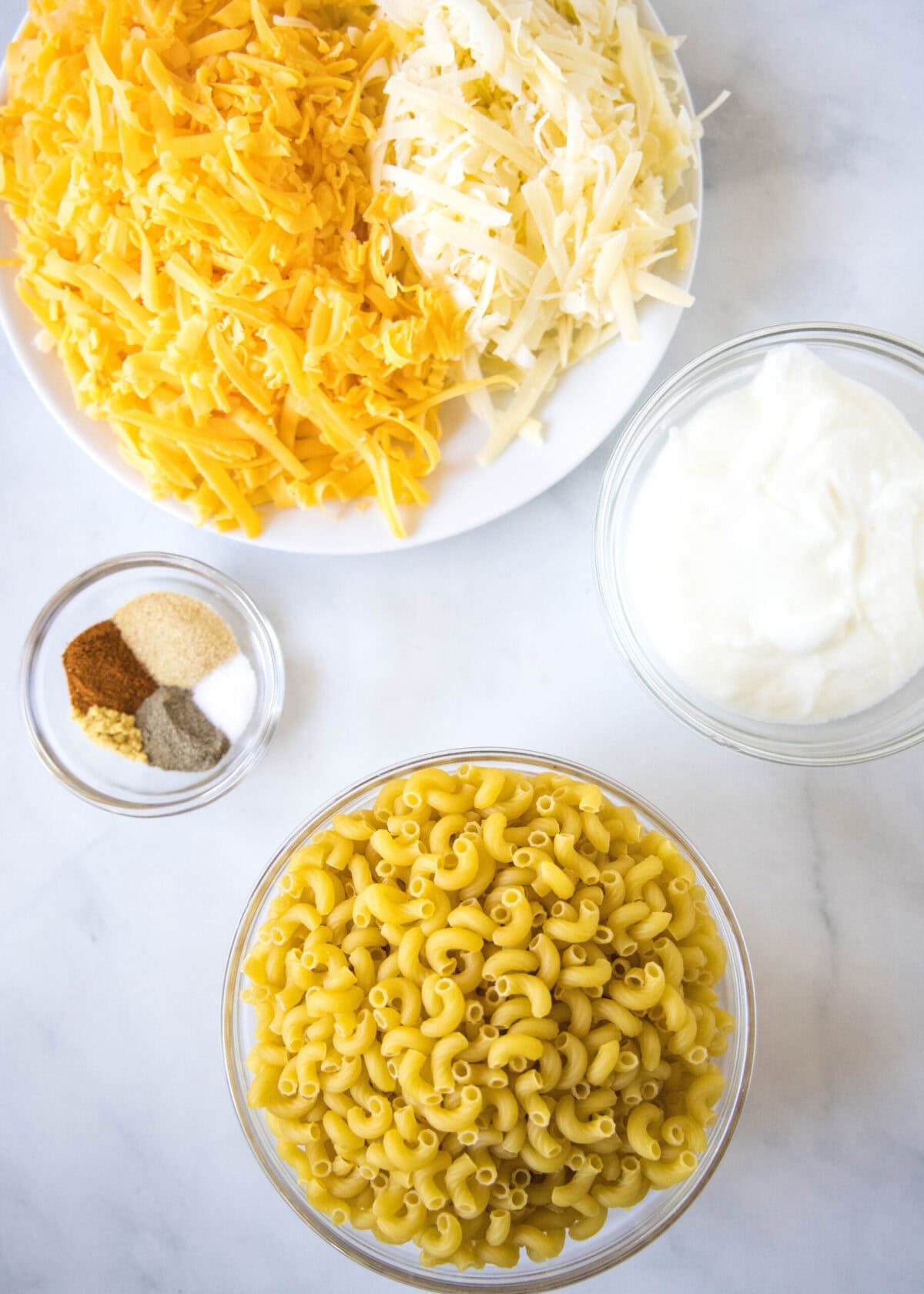 Recipe Ingredients
Here are all the ingredients you'll need to make this quick and creamy healthy mac and cheese. Be sure to scroll to the recipe card at the end of the article to see the exact amounts for each of the ingredients.
Elbow macaroni – You can use other types of pasta shells if you prefer, and feel free to use healthy pasta options.
Sharp cheddar cheese 
Gruyere cheese
Greek yogurt – Make sure to use plain, unsweetened yogurt. 
Garlic powder
Paprika
Ground mustard
Black pepper – Always use freshly cracked pepper.
Salt
Add-In & Variation Ideas
One of the best things about this gooey mac and cheese is that you can add all sorts of different ingredients to change the flavor. Here are some of my favorite additions to healthy stovetop mac and cheese.
Veggies. I love to add peas and broccoli to this recipe, but you can add other vegetables that you love. Fresh, cooked, canned, or frozen veggies will all work in this recipe.
Meat. If you want to bump up the amount of protein in this recipe, simply add some meat! I love to stir in some chunks of chicken or sausage, or crumble up some bacon and sprinkle it on top. 
Herbs. One of my favorite ways to bump up the flavor of mac and cheese is to add fresh herbs. Just stir in your favorite herbs at the very end and you'll add a freshness and herbaceous flavor that will take this mac and cheese to the next level. 
Hot sauce. If you like spicy foods then you can add a kick to mac and cheese by stirring in some hot sauce. Just wait until the recipe is finished, then stir in your favorite variety of hot sauce. It's delicious! 
Pastas. This recipe calls for standard elbow macaroni. However, you can use other shapes of pasta if you like, and you can replace the pasta with healthier versions. 
How To Make Healthy Mac and Cheese
This stovetop mac and cheese only takes 25 minutes to make. Here's how to do it.
Cook the pasta. Bring a pot of water to a boil, and cook the macaroni according to the package directions.
Make the yogurt mixture. Put the Greek yogurt in a bowl and add the garlic powder, paprika, ground mustard, salt, and pepper. Stir until well combined. 
Add the yogurt and cheese. After the pasta has cooked and been drained, add it back to the pot. Put the yogurt mixture and both cheeses in the pot with the macaroni.
Stir. Stir the mac and cheese until all of the cheese is melted and the sauce is smooth and creamy, then serve.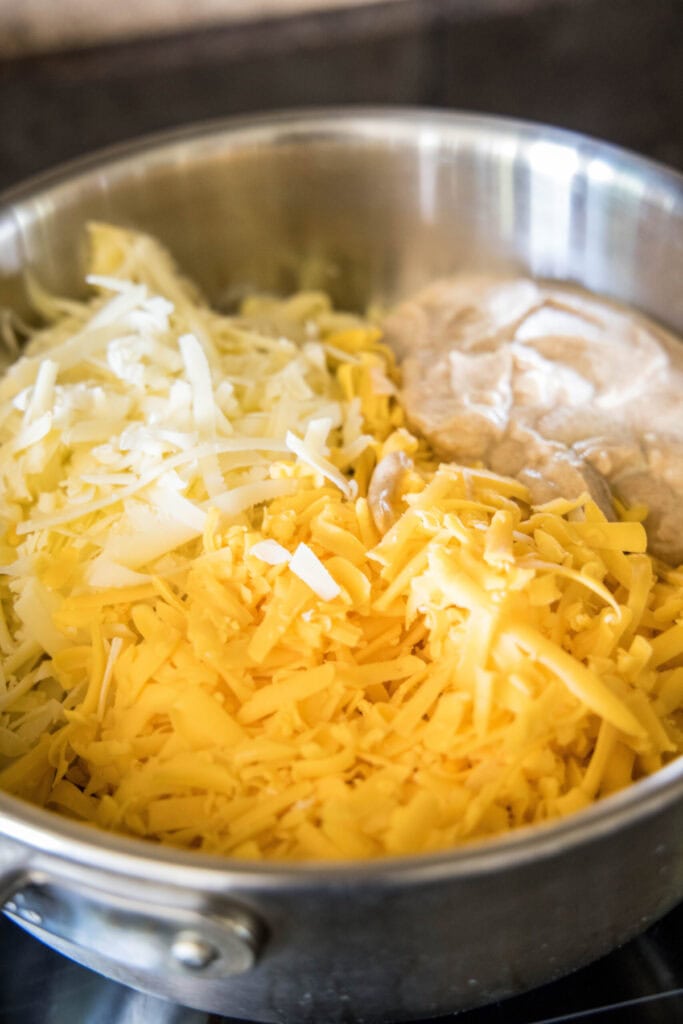 Tips for the Best Stovetop Mac and Cheese
This is an easy and fool-proof recipe, but here are a few tricks to help you make it. 
Adjust the seasonings. If you're worried about the mac and cheese being too salty or too seasoned, just go light on the spices. Then, when the dish is done, taste it and adjust. Remember: you can always add more salt, but you can't remove it! 
Really stir. After adding the yogurt and cheese mixture, stir the mac and cheese aggressively. It might take a little while for the cheese to melt and become a smooth sauce. Be patient and keep stirring until the mac and cheese looks perfect.
Serve hot. This recipe is best served as soon as it's done cooking. It will still be delicious as it cools, but it's at its best when hot because the cheese will be extra gooey and melty.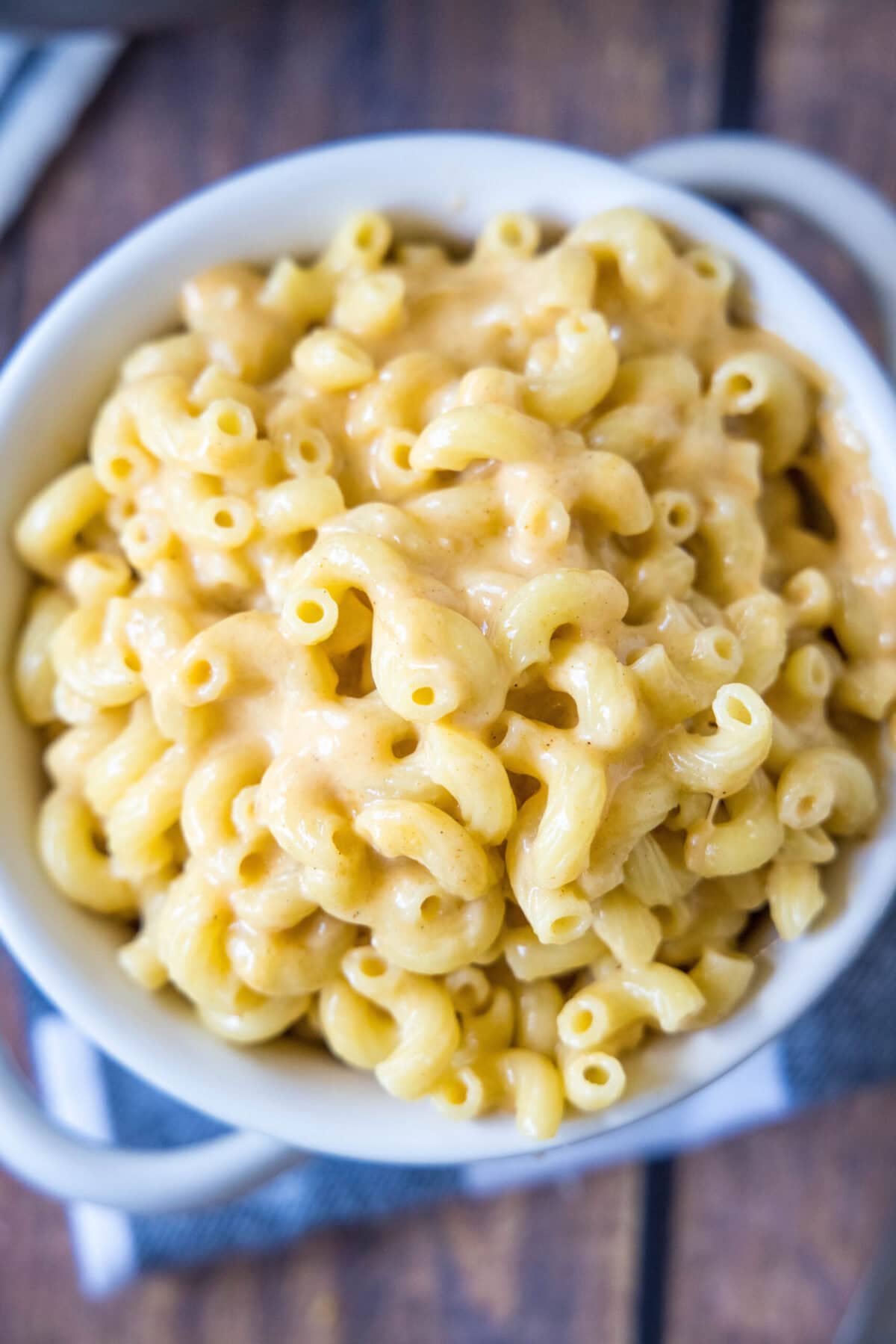 Serving Suggestions
Even though this is a healthier mac and cheese recipe, it's still very rich and creamy. So I like to serve it with some fresh veggies on the side. Here are a few of my favorite vegetable side dishes to serve with healthy mac and cheese.
How to Store & Reheat Leftovers
Leftover gruyere and cheddar mac and cheese can be stored in an airtight container in the fridge for up to 3 days. Reheat in the microwave in 20-second increments, or on the stovetop over medium heat. You can also store the mac and cheese in an airtight container in the freezer for up to 4 months. Thaw or defrost completely before reheating.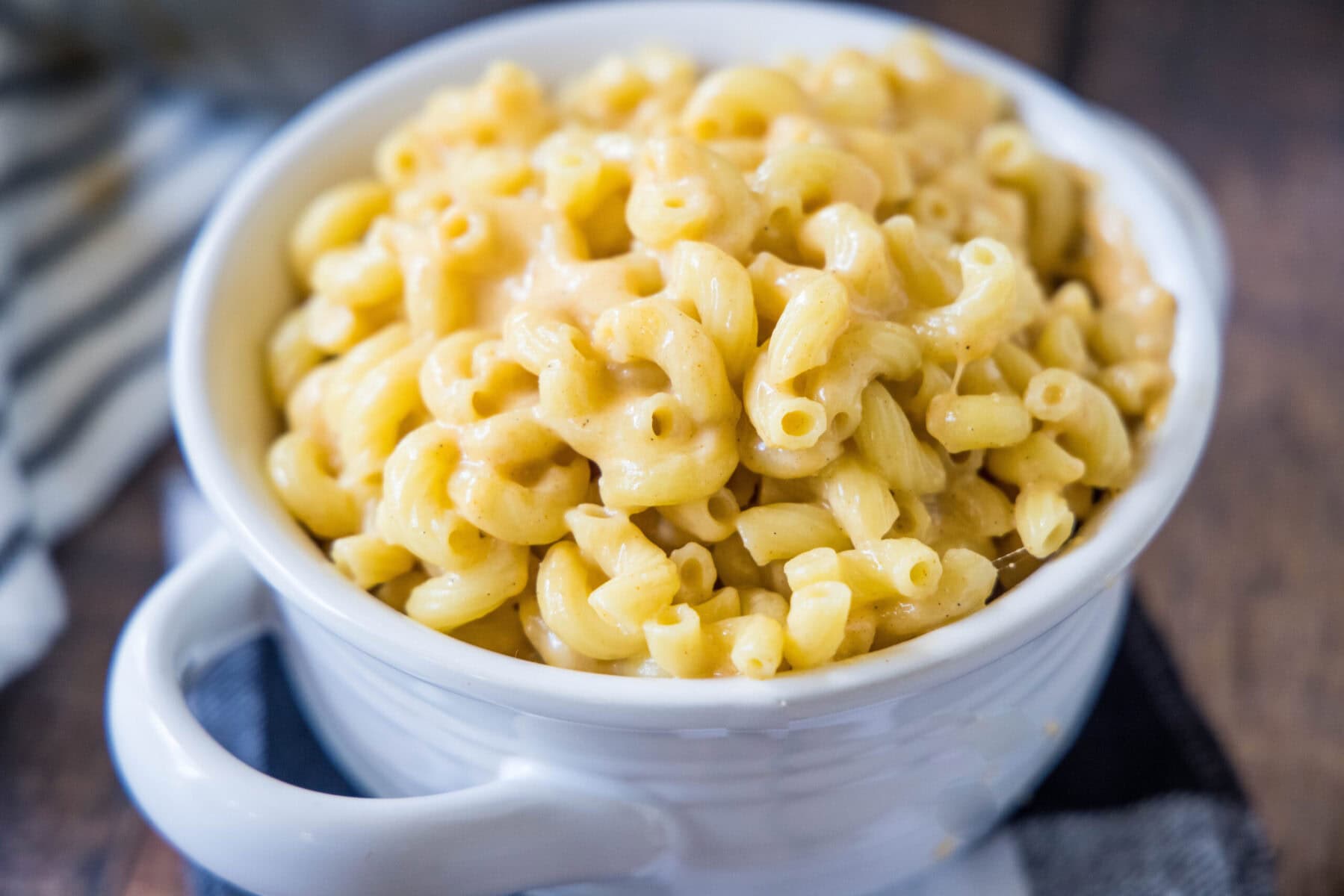 More Homemade Mac and Cheese Recipes 
If you couldn't tell by now, mac and cheese is one of my favorite foods. Here are some other mac and cheese recipes that I think you'll love.
Prep Time
5 minutes
Cook Time
20 minutes
Total Time
25 minutes
Ingredients
12 ounces elbow macaroni
5 ounces sharp cheddar cheese, shredded
4 ounces gruyere cheese, shredded
2/3 cup play Greek yogurt
1 teaspoon garlic powder
1 teaspoon paprika
1/2 teaspoon ground mustard
1/2 teaspoon black pepper
1/2 teaspoon salt
Instructions
Cook the elbow macaroni according to the package directions. 
While the pasta cooks, add the Greek yogurt to a bowl with the garlic powder, paprika, ground mustard, salt, and pepper. Stir until well combined.
When the pasta is finished cooking, drain it and add it back to the pot. Add in both of the cheeses and Greek yogurt mixture.
Stir the macaroni until the cheese is melted and it's smooth and creamy.
Serve immediately. 
Notes
Store leftovers in an airtight container in the fridge for 3 days, or in the freezer for 4 months.
Reheat in the microwave in 20-second increments, or on the stove over medium heat.
You can use any shape of pasta, or use high-protein, chickpea, or whole wheat pasta.
Nutrition Information
Yield
5
Serving Size
1
Amount Per Serving
Calories 337Total Fat 18gSaturated Fat 10gTrans Fat 0gUnsaturated Fat 6gCholesterol 52mgSodium 557mgCarbohydrates 25gFiber 2gSugar 2gProtein 19g
Nutrition Disclaimer: All information presented on this site is intended for informational purposes only. I am not a certified nutritionist and any nutritional information shared on dinnersdishesanddesserts.com should only be used as a general guideline.
I created a fun group on Facebook, and I would love for you to join us! It's a place where you can share YOUR favorite recipes, ask questions, and see what's new at Dinners, Dishes and Desserts (so that you never miss a new recipe)!
Be sure to follow me on Instagram and tag #dinnersdishes so I can see all the wonderful DINNERS, DISHES, AND DESSERTS recipes YOU make!
Be sure to follow me on my social media, so you never miss a post!
Facebook | Twitter | Pinterest | Instagram 
Did you know there is a Dinners, Dishes, and Desserts SHOP? Lots of different E-Books for sale. Or you can buy me a coffee to say thanks!
OTHER RECIPES YOU MIGHT LIKE: