Sausage Breakfast Casserole – a super easy make-ahead sausage egg casserole with hash browns, breakfast sausage, green peppers and lots of cheese! Perfect for brunch or when you have a full house!
I love having a good casserole breakfast on the weekends, for the holidays, or when we have a house full of people. They're so good to make ahead and ready to pop in the oven when you wake up in the morning!
This sausage egg bake is probably our favorite, it's so simple, with all the components you want. Potatoes, eggs, sausages and cheese. I add bell pepper and onion for extra flavor, but you can skip that or even add more!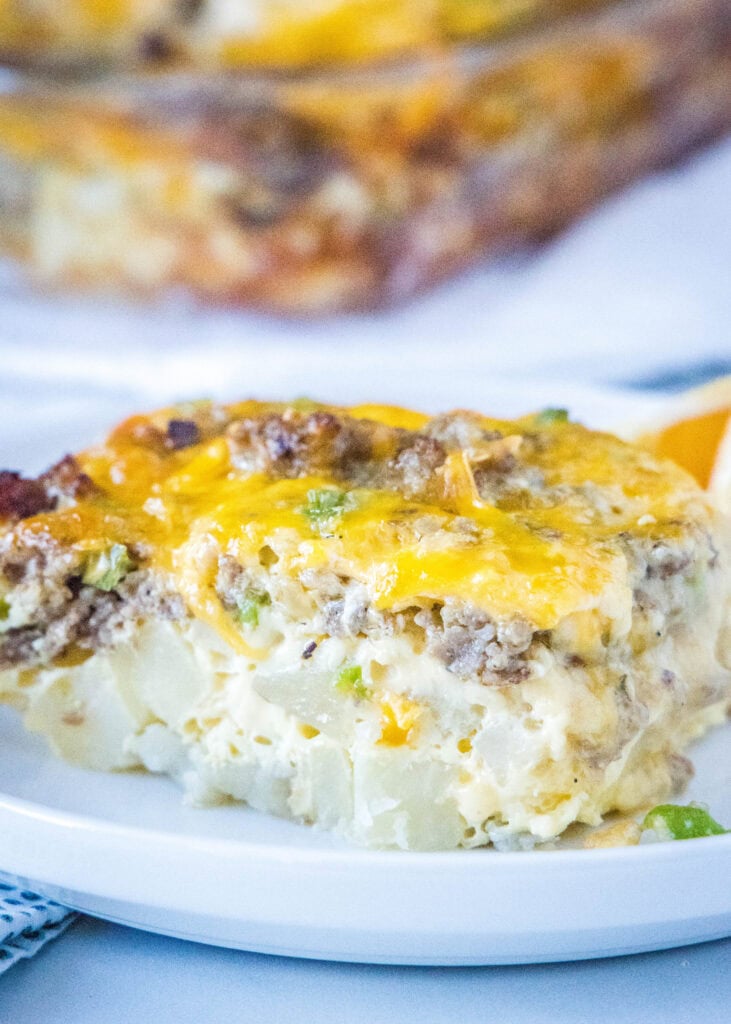 breakfast casserole
A traditional American breakfast that feeds a crowd! This recipe relies on frozen hash browns and lots of eggs for a hearty and easy breakfast. One of the great things about a breakfast casserole is that you can put everything together ahead of time! So when you wake up in the morning, all you have to do is cook it…no need to brown the meat or stir early in the morning.
One of my other favorites is this Crockpot Breakfast Casserole because it literally cooks while you sleep, so you wake up with breakfast ready!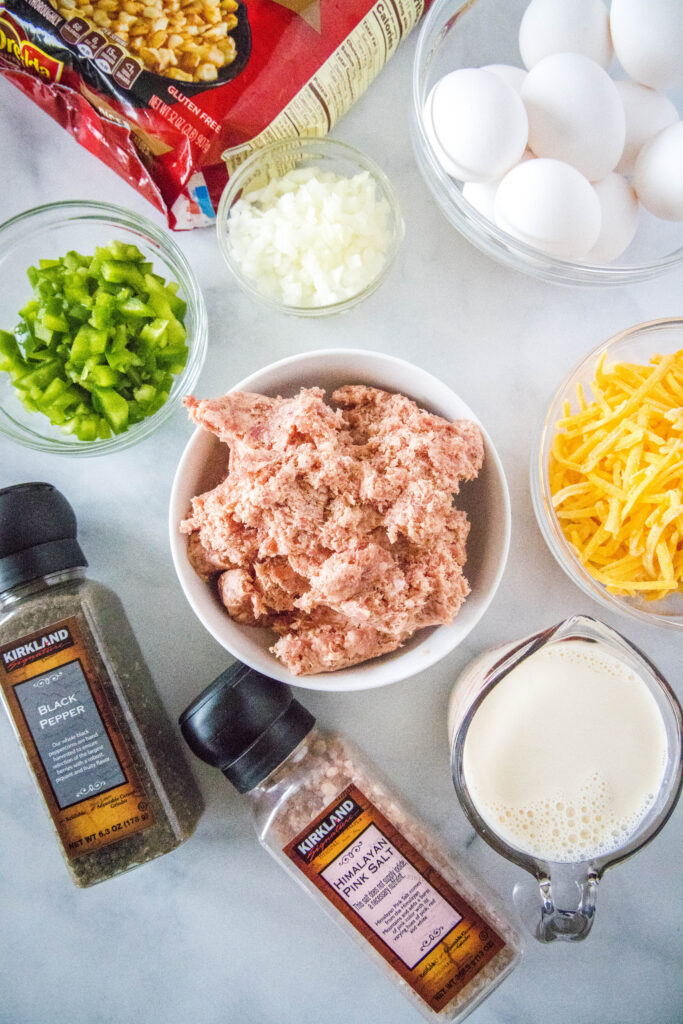 What you will need
Frozen hash browns
Eggs
Evaporated milk (or any dairy product)
cheddar cheese
breakfast sausage
Onion
Green peppers
Salt pepper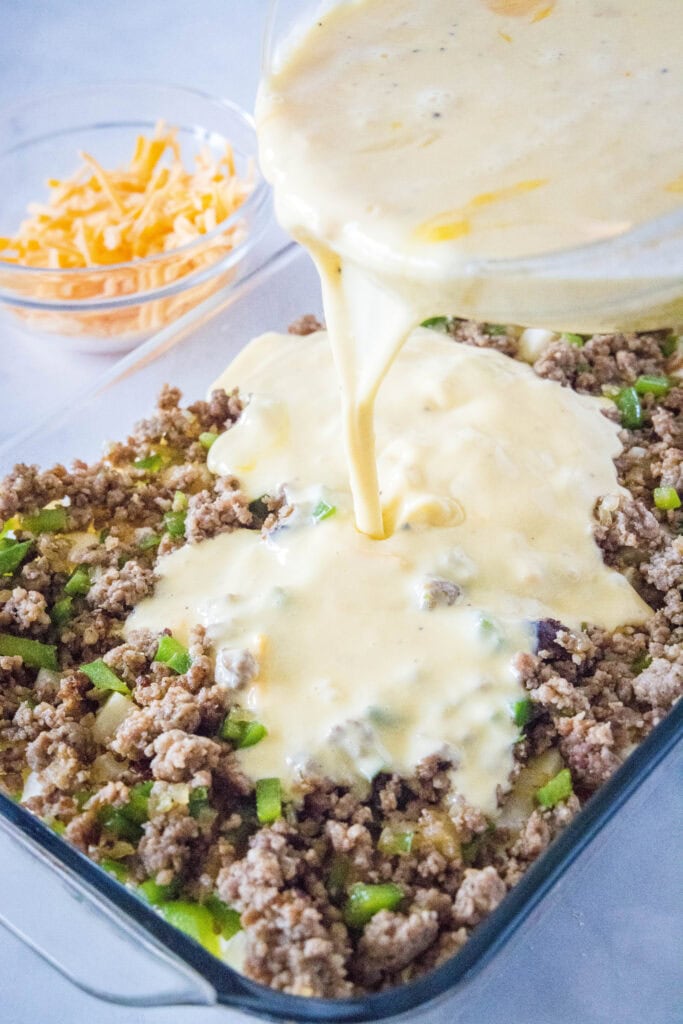 How to make sausage egg casserole
Be sure to scroll down to the recipe card for full measurements and instructions!
Using a large skillet, brown the breakfast sausage, chopped peppers and onions for 5-6 minutes, breaking into small pieces, until lightly browned, cooked through and the vegetables are tender.
Ladle the bag of frozen diced hash browns into the bottom of a 13×9-inch baking dish. Spread the sausage mixture on top of the potatoes.
In a large bowl, beat together eggs, milk, salt and pepper until very well blended. Pour evenly over sausage mixture.
Sprinkle cheese on top. Cover with foil.
You can now cook immediately or place in the fridge overnight to cook in the morning.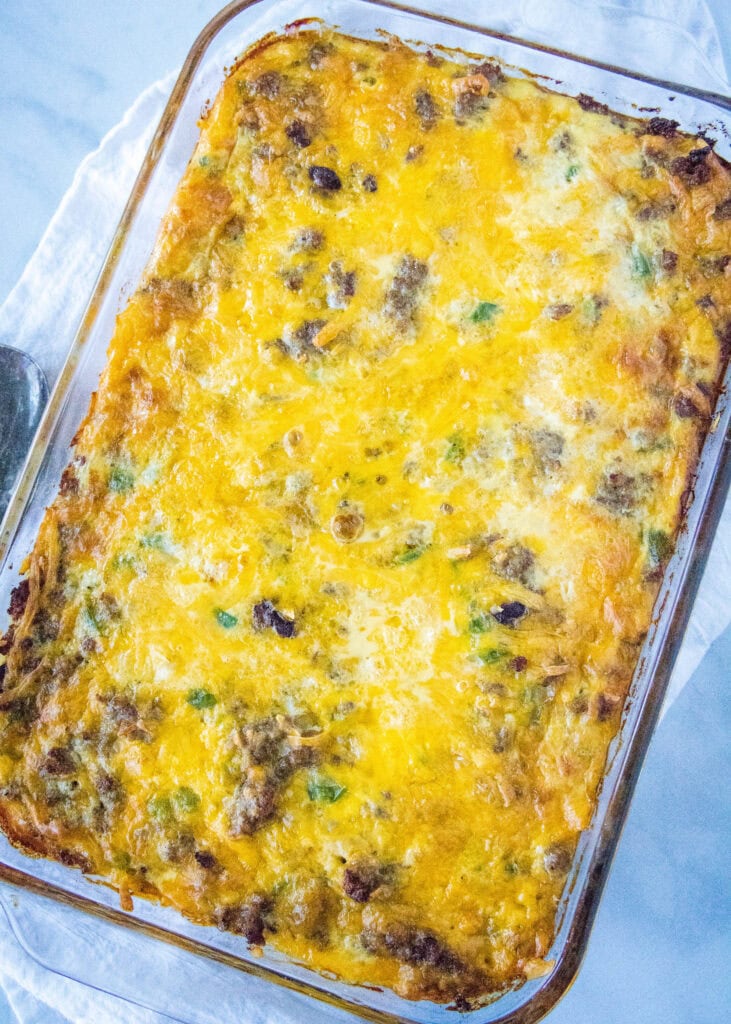 can i do it in advance
If you want to make it the day before, follow the recipe up to the cooking instructions. Cover with aluminum foil and place in the refrigerator for up to 24 hours. Then cook in the morning according to the instructions below.
Can I freeze a breakfast casserole
Yes you can. To freeze the breakfast casserole, follow the recipe and when you cover it with foil, simply place it in the freezer for up to 3 months. When you're ready to do so, let it thaw in the fridge overnight. I like to let it sit on the counter for about an hour before baking as well, to make sure everything in the center is thawed and about the same temperature. Then you can cook according to the recipe instructions.
Can I use anything other than sausages for breakfast?
Absolutely! You can use any meat you prefer. Diced ham, chopped bacon, even tempeh or other plant-based alternatives work great. Diced ham that you wouldn't need to cook ahead of time, so just saute your onions and peppers until soft, then toss everything together to arrange over the potatoes.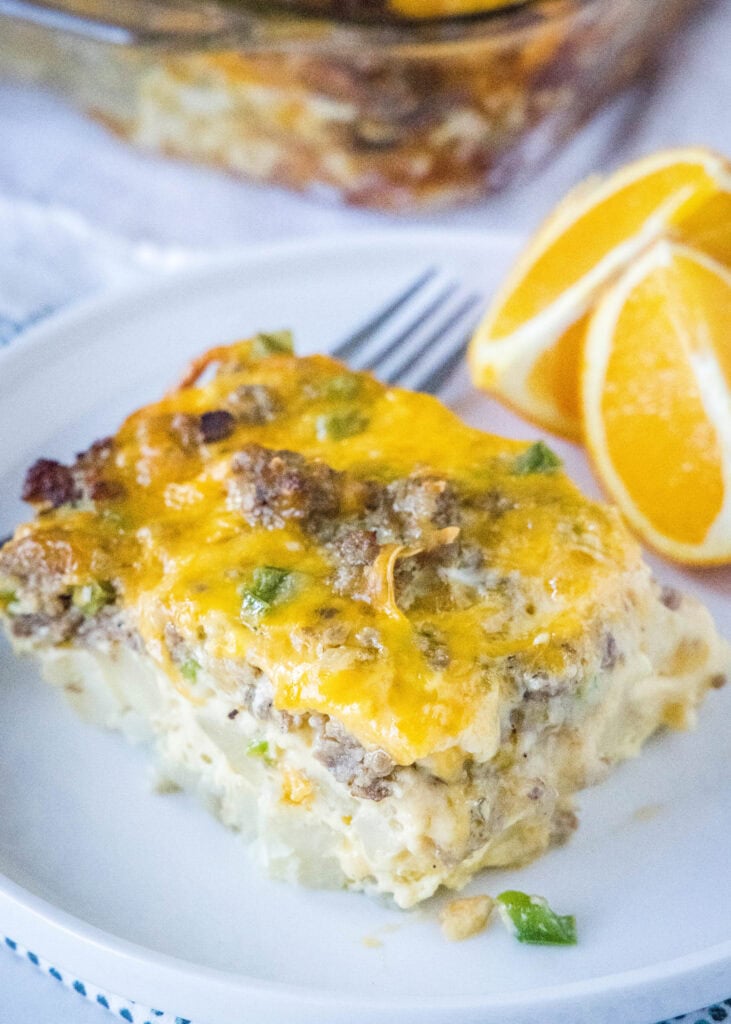 Storage
Leftovers can be stored in an airtight container for up to 4 days in the refrigerator. You can microwave individual slices or cover with foil and reheat in a 350º oven until warmed through.
This Sausage Egg Casserole makes a lot, so if you have a small family or don't want a lot of leftovers, you can definitely cut the recipe in half and bake in an 8-inch square pan.
How to serve
This sausage breakfast casserole is great on its own, you have potatoes, eggs and cheese so it is very filling. But if you want to supplement, here are some good options.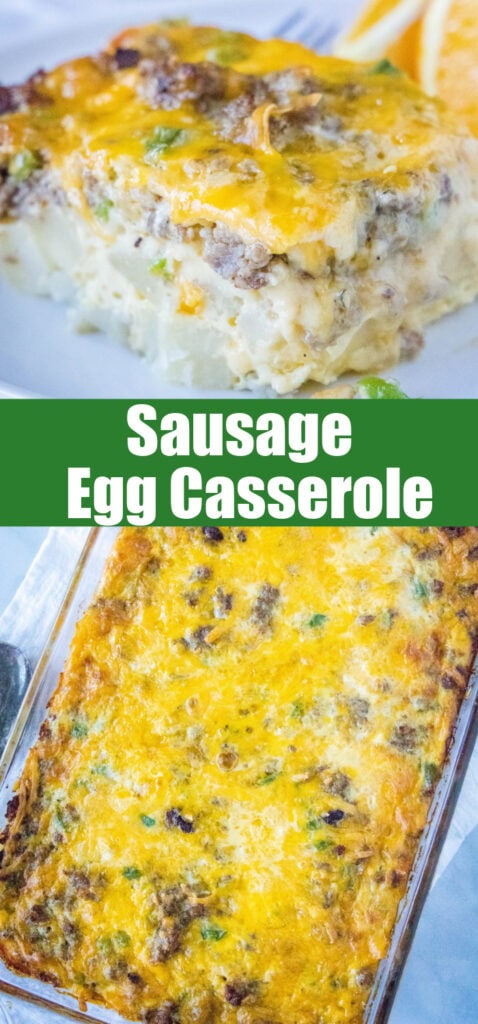 Yield: 10
Make-Ahead Sausage Potatoes and Eggs
Sausage Breakfast Casserole – a super easy make-ahead sausage egg casserole with hash browns, breakfast sausage, green peppers and lots of cheese! Perfect for brunch or when you have a full house!
Preparation time 10 minutes
Cooking time 1 hour
Total time 1 hour 10 minutes
Ingredients
1 pound breakfast sausage
1 bag (32 oz) frozen hash browns, thawed
1 cup onion, diced
1 green bell pepper, diced
10 large whole eggs
1 (12 oz) evaporated milk (can use any dairy, needs 1 1/3 cups)
1/2 teaspoon of salt
1/2 teaspoon black pepper
1 1/2 cups cheddar cheese, grated
Instructions
In a large skillet, brown the sausage by breaking it into small pieces. Add onion and bell pepper. Cook until the sausage is cooked and the vegetables are tender.
In a large bowl, beat eggs, milk, salt and pepper until well blended.
Spread the hash browns in a 13×9-inch pan. Top with sausage mixture. Pour the egg mixture evenly over the top. Sprinkle with cheese. Cover skillet with aluminum foil.
If you want to bake immediately, preheat the oven to 350º and bake for 30-45 minutes, until puffed and cooked through. Remove foil and bake for 5 minutes until golden and bubbly.
To make ahead, cover with foil and refrigerate overnight. When you're ready to bake, preheat the oven to 350°F. Bake for 55-60 minutes in the morning until puffed and cooked through. Remove the foil for the last 5 minutes to brown the cheese.
Nutrition information
Yield
ten
Portion
1
Amount per serving calories 311Total fat 23gSaturated fat 9gtrans fat 0gUnsaturated fats 13gCholesterol 243mgSodium 661mgCarbohydrates 6gFiber 1gSugar 3gProtein 19g
Nutrition Disclaimer: All information presented on this site is for informational purposes only. I am not a certified nutritionist and any nutritional information shared on dinnersdishesanddesserts.com should only be used as a guideline.
I have created a fun group on Facebook, and I would like you to join us! It's a place where you can share YOUR favorite recipes, ask questions and see what's new in Dinners, Mains and Desserts (so you never miss a new recipe)! If you want to check it out, you can ask to join HERE.
Be sure to follow me on instagram and tag #dinnersdishes so I can see all the wonderful DINNERS, DISHES AND DESSERTS recipes YOU make!
Do not hesitate to follow me on my social networks to not miss any publication!
Facebook | Twitter | Pinterest | instagram
Did you know that there is a BOUTIQUE for Dinners, Main Courses and Desserts? Check out all of my eBooks and branded products HERE! Or you can buy me a coffee to say thank you!
OTHER RECIPES YOU MIGHT LIKE: