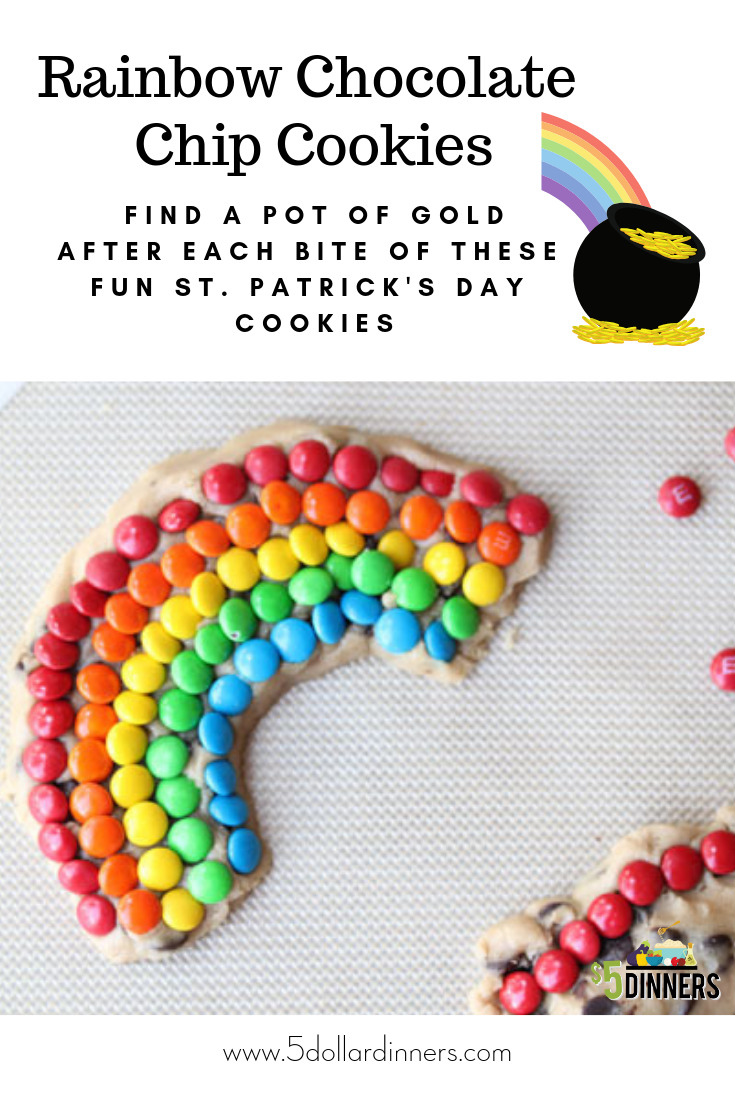 Simple and delicious St. Patrick's Day treat…
Oh, the chocolate chip cookies. Delicious, delicious cookies.
They're about to get a little more delicious and a little more chocolaty.
(That might be my new favorite word, chocolatier.)
Why not kick it up a notch this St. Patrick's Day with these rainbow chocolate chip cookies?!? Who is with me?!?
I love them because they're simple, easy to make with kids, and super delicious.
Any chocolate chip batter recipe will work, but you will need to refrigerate it for at least two hours. You want to chill it so it forms better and they cook better too.
The kids and I had the most fun together working on this cookie project, as they called it. I had my two older boys sort the mini candies with a crunchy, candy-coated shell into stacks of colors. (The 2-year-old was napping at the time. He probably would have sampled the candies during sorting time!)
While the boys were sorting, I made the dough by rolling it into a log, then shaping it into the arc of the rainbow. From there, I flattened the dough so all five colors would fit the dough. Then we each picked a color and started adding the candies to create the rainbows.
Then we baked as directed by the recipe. As with any cookie, the dough will spread, so be sure to place the candy close to the dough.
Once baked, you can then munch on your rainbow cookies, chasing that pot of gold at the end of the rainbow!
Hope you enjoy this simple and tasty treat this St. Patrick's Day! What's your favorite St. Patrick's Day treat?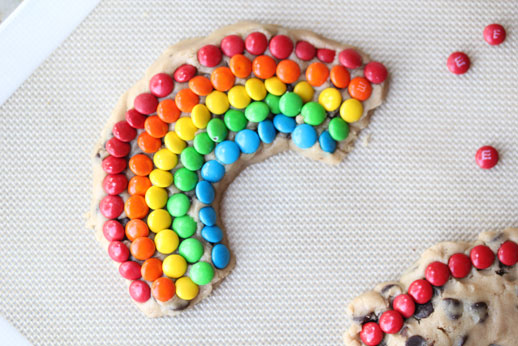 A great treat to make with the kids!
Ingredients
1

cup

butter

3/4

cup

White sugar

3/4

cup

brown sugar

2

eggs

1

teaspoon

vanilla

2 1/2

cups

all purpose flour

1

teaspoon

baking soda

1

teaspoon

salt

2

cups

semi-sweet chocolate chips

Rainbow M&Ms
Instructions
Preheat the oven to 350F.

In a stand mixer or mixing bowl, beat together the butter and sugars. Then add the vanilla and 1 egg and beat together. Then add the other egg and beat together.

In a separate bowl, add the flour, baking soda and salt and mix/whisk gently. Add the dry ingredients, mixing 1 cup at a time with the wet ingredients. Beat until the dough forms.

Gently stir in the chocolate chips. Refrigerate dough for at least 1 hour.

Next, take 2-3 dough cookies and roll them into a "log", then fold them into a rainbow shape. Press until it looks like the photo.

Add the M&M's, as close as possible. They will spread out as the dough underneath thins out during baking.

Bake in preheated oven for 9 to 11 minutes or until cookie is cooked through.

Let cool on a wire rack before serving.